OTTAWA COUNTY, MI
Traffic on I-96 near Nunica was tied up early Wednesday afternoon, Dec. 30, after a Buick sedan lost control passing a logging truck a few minutes after noon in the eastbound lanes.
The two-vehicle accident happened just west of the Apple Drive overpass in Crockery Township a short distance west of Nunica. Four young women in the Buick, two of them from the Muskegon area, suffered non-life-threatening injuries and were transported to Muskegon hospitals, according to the Ottawa County Sheriff's Office.
Eastbound traffic on I-96 backed up for more than a mile after police closed both lanes for ambulances and paramedic rescue personnel. Later, police also briefly closed the westbound lanes to allow a tow truck to pull the logging truck out of a ditch in the median.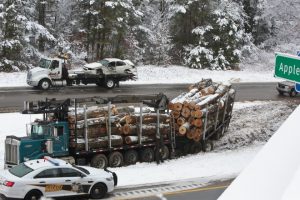 According to a sheriff's office news release, an eastbound 2003 Buick LeSabre driven by Lauren Prince, 19, of North Muskegon passed a 1993 Kenilworth semi-tractor trailer loaded with logs, driven by Aaron Kamps, 31, of Jenison.
Prince had completed the pass and was moving back into the right lane when she lost control of her vehicle, ran off the road to the right and bounced off a guard rail into the traffic lane, where the Buick was struck by Kamps' truck, according to the sheriff's office.
Kamps told deputies he tried to swerve to miss the Buick but struck it. He drove his truck onto the I-96 median.
The four occupants of the Buick were pinned in and had to be extricated by Crockery Township Fire/Rescue personnel. They were transported to Mercy Health Hackley Campus, according to the sheriff's office.
Injured were Prince and her passengers McKenzie Doriot, 19, of Mount Pleasant, Natalie Bertolone, 20, of Muskegon and Morgan Budde, 19, of Mount Pleasant.
Deputies issued a ticket to Prince citing her for driving too fast for road conditions.
Roads were slushy and icy at the time, with several other crashes in the area, according to Sgt. Steve Austin of the Ottawa County Sheriff's Office.