Just a day after Oberon Release Day in Kalamazoo a thief made off with a huge inflatable  object for the popular beer, and polices are asking for help identifying the one responsible.
At about 4:30 a.m. March 28 an unidentified man was observed on surveillance cameras near 100 W. Michigan Ave. stealing an inflatable Oberon bottle that stands more than 12 feet tall.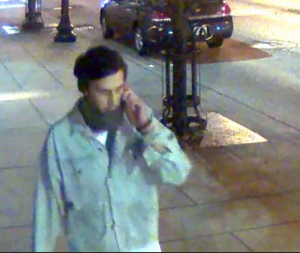 The advertisement is worth more than $2000.
Authorities ask that anyone who may recognize the man or who knows any details about this incident to contact the Kalamazoo Department of Public Safety at 337-8139 or Silent Observed at 343-2100.